IT'S WEDNESDAY NIGHT. YOU KNOW WHAT THAT MEANS!
Heya folks! We are firmly entrenched on the road to Double or Nothing and I can't wait. It's only two weeks out and before then, we still have to figure out the finals of the Owen Hart Foundation Memorial Tournaments! Last week, we had Jeff Hardy (ugh!) and Adam Cole (yay!) advance on the men's side while we got Toni Storm defeating Jaime Hayter on the ladies' side. Now I just want the finals to be Toni Storm vs Darby Allin. What? It doesn't work like that? Why not?! Fine. Whatever. Speaking of whatever, whatever happened to Kerwin White?
POP: Jo-Wen! Jo-Wen! Jo-Wen!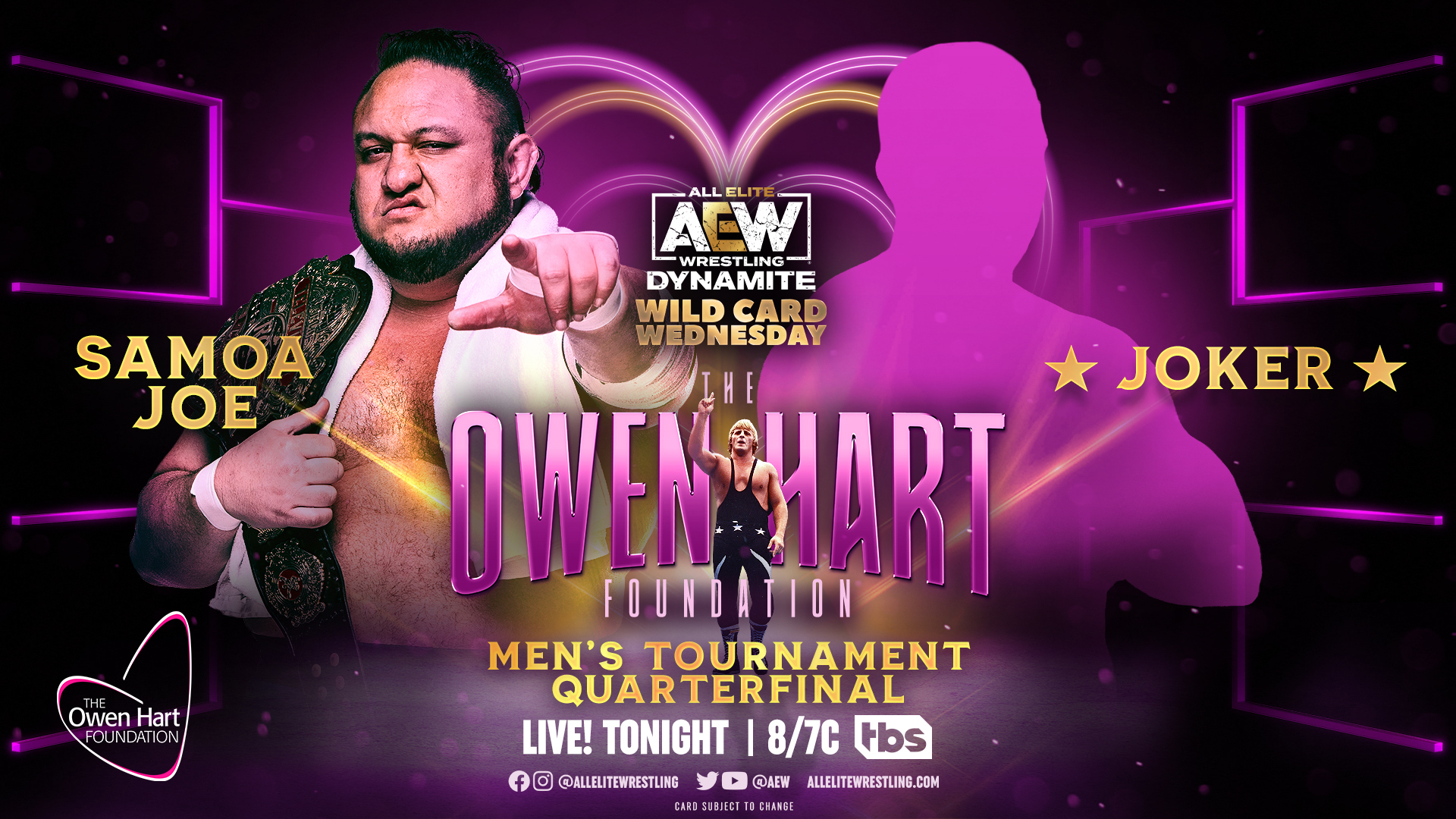 Well, I most certainly wasn't expecting to see Johnny Fucking Nitro on my screen as the Joker in the men's Owen Hart Foundation Memorial Tournament. I'm sorry. Johnny Elite. To make things even better, Johnny accidentally potatoes Joe to start the match and they have a good chuckle about it. The problem for Johnny is that Samoa Joe was chuckling like a serial killer where he lets you think everything is okay then absolutely murders you when you least expect it.
Johnny still has his unorthodox offensive style, which I love. But maybe he was a little too hype, or even too nervous for his AEW debut, as, coupled with the botch at the beginning, he came up a little short on the 450 that could have put Joe away for good. Right after this, Joe gets his knees up when Johnny attempts the Starship Pain, allowing him to overwhelm Johnny and get the victory. Samoa Joe has advanced to the semifinals of the tournament and he'll find out his opponent later tonight! Unfortunately, right when the bell rings, Joe is attacked by Sonjay Dutt, Jay Lethal, and Satnam Singh. After they bust Joe's shoulder with a steel pipe, the Best Friends come out to chase them off and I guess we have a six man coming in the very near future!
POP: Forbidden Door Shit
Konosuke Takeshita comes out for his one-on-one with AEW World Champion, Hangman Adam Page. But do you know who came out before him to sit in on commentary? No? LOOK AT THE FUCKIN' GRAPHIC, CHAZ! It's CM Punk himself! My only hope for this match is that Punk doesn't interfere in this match. Hell, I'd love it if he didn't even confront Page at all and their only interaction was a small stare down as Page came down to the ring. One thing I do know is that Konosuke Takeshita looks like a million bucks.
These two definitely have chemistry and it appears they've fought before. Multiple times throughout this match, they countered each other in an attempt to get the upper hand. Right after CM Punk refers to Page's finisher as the Punkshot Lariat (I see you read last week's column, Phil!), Hangman finishes off Takeshita with a Go To Sleep! Not only does he send a message directly to Punk, they have a face-to-face showdown on the ramp, which, although I didn't want, was actually pretty cool, especially for the audience in attendance.
BOTCH: Bask in Whatever the Hell this Was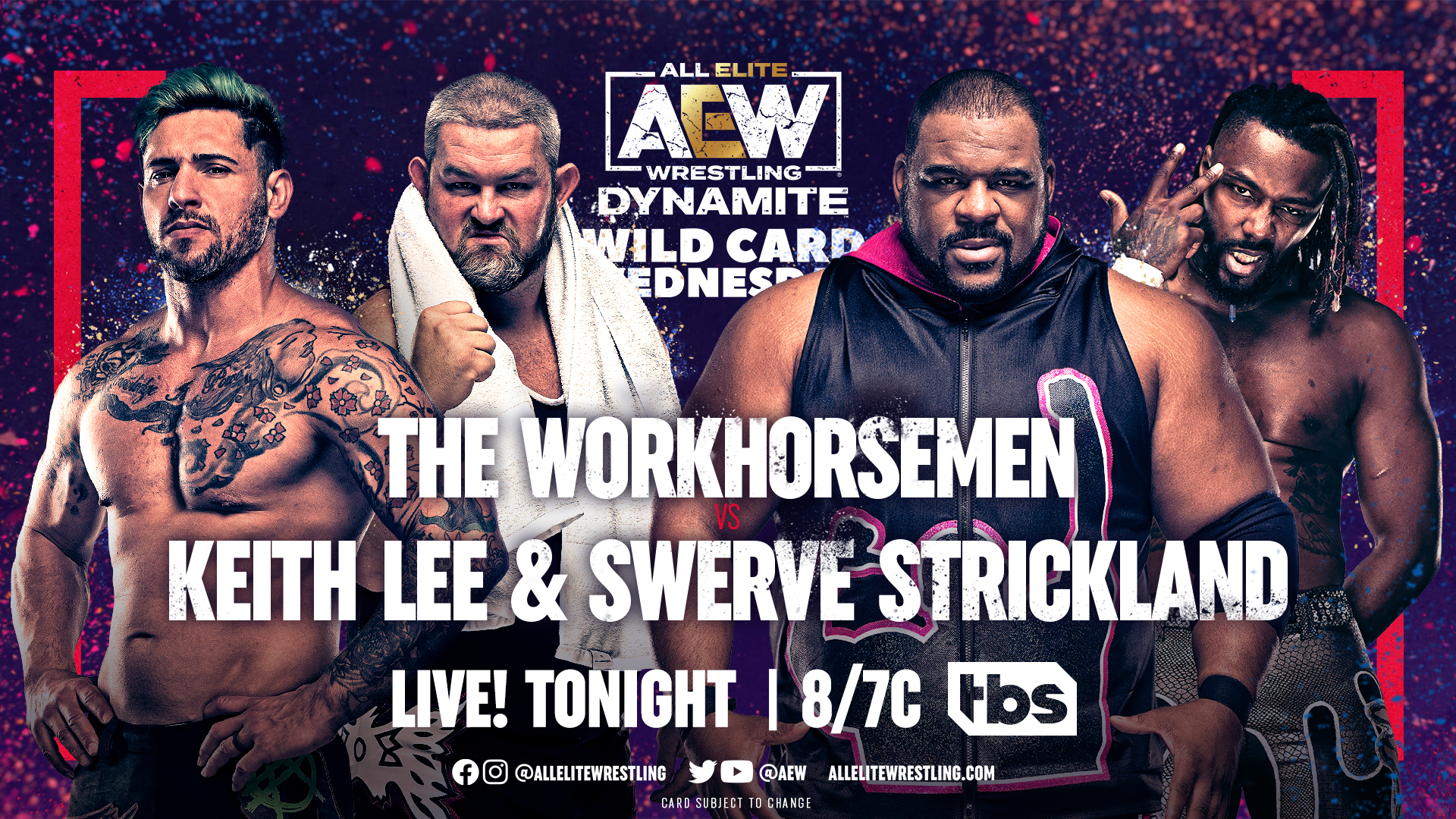 I'm not usually down on two dudes being thrown together to become a tag team but for some reason, I'm pretty down on Keith Lee & Swerve Strickland being a tag team. Now, I understand The Workhorsemen are making their tag team debut but at least they have a team name and you could argue they match as JD Drake's tights match Anthony Henry's skunk butt hair perfectly.
Obviously, this match didn't last long. The best thing about it is Swerve and Limitless' finisher move, appropriately dubbed the "Fall from Glory." It gets the 1-2-3 and Keith Lee announces they are now a top five tag team in the AEW tag team division. Ricky Starks and Powerhouse Hobbs comes out and they exchange words with Swerve and Limitless until they're interrupted by your AEW Tag Team Champions, Jurassic Express. Christian lambasts both teams and challenges them to a three-way (?) at Double or Nothing for the AEW tag straps. Commissioner Christian also announces Jungle Boy vs. Swerve Strickland vs. Ricky Starks next week on Dynamite!
POP: Yes. You Read that Right. A Pop.
Wardlow comes out (to no music and in handcuffs, of course) to meet MJF and Shawn Spears in the ring for his ten lashings with the belt. MJF and Spears whip him nine times before MJF kicks him in the balls. It was glorious that Wardlow didn't even FLINCH when he got whipped but a light dick kick and he goes down instantly. I've been hating this feud but this makes me look forward to seeing Wardlow finally get his hands on MJF at Double or Nothing.
POP: The O In O'Reilly Stands for Owen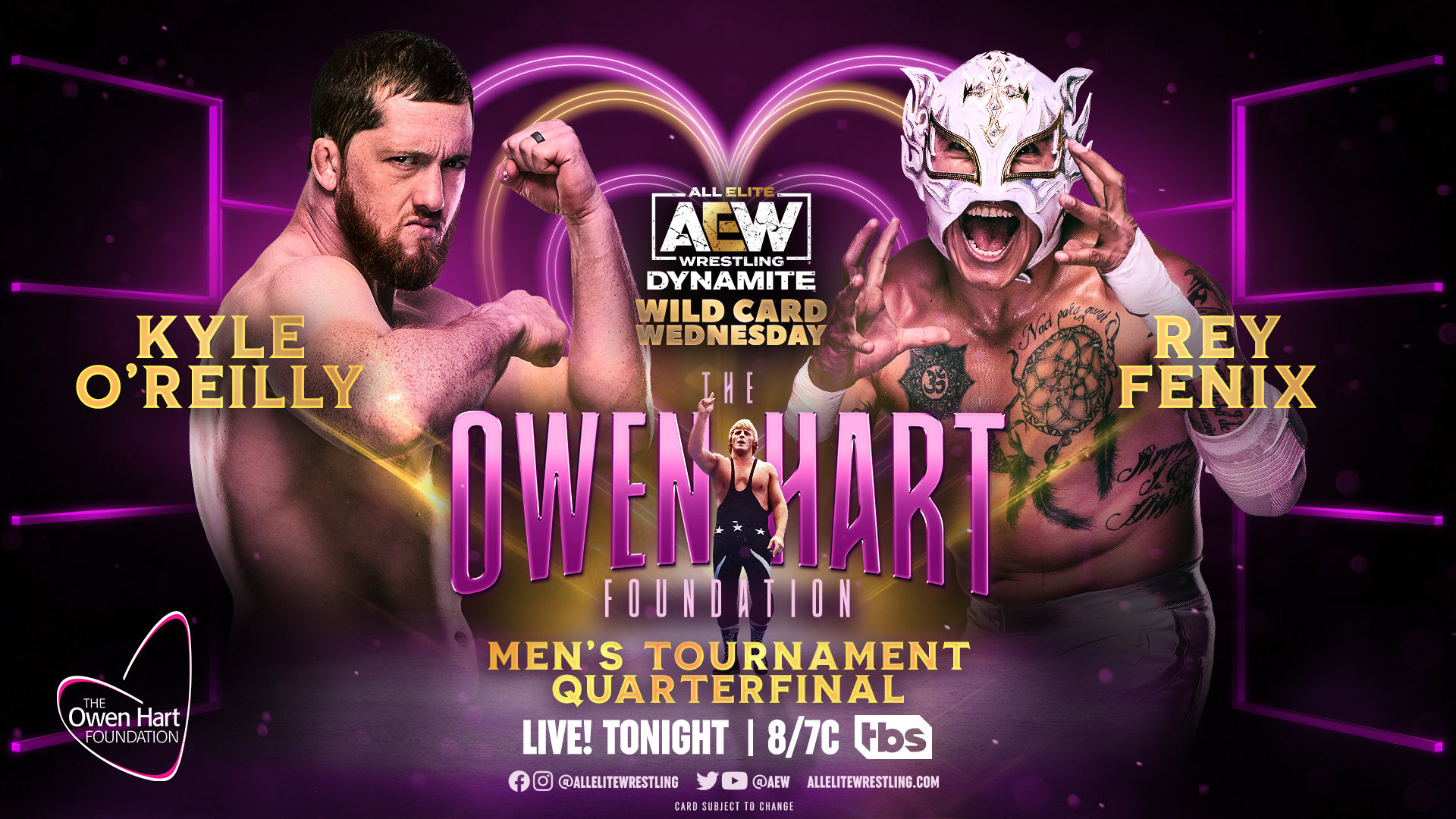 Hold onto your tits. The thought of Rey Fenix vs Kyle O'Reilly really gets my blood pumping. We get two very different fighting styles as Rey Fenix will jump around and use his speed to kick your ass whereas Kyle O'Reilly will dismantle you with his technical prowess. Honestly, if these two had a baby with their styles in the 60s, it would have been Owen Hart. This contrast of styles easily gives us the match of the night as these two go HARD.
Kyle pulls off a double-underhand, butterfly suplex chain to really kick the match into a higher gear. It. was. SICK. I never knew who was going to win though. But when this happened, I thought it was over and Rey was advancing. I was wrong. O'Reilly countered this thing into a leg-catcher and that's all she wrote! Wow. This match was …. wow! What a great match! They've really been knocking it out of the park with these Owen Tourney matches but this might be my legitimate favorite by far.
POP: Hart of a Baker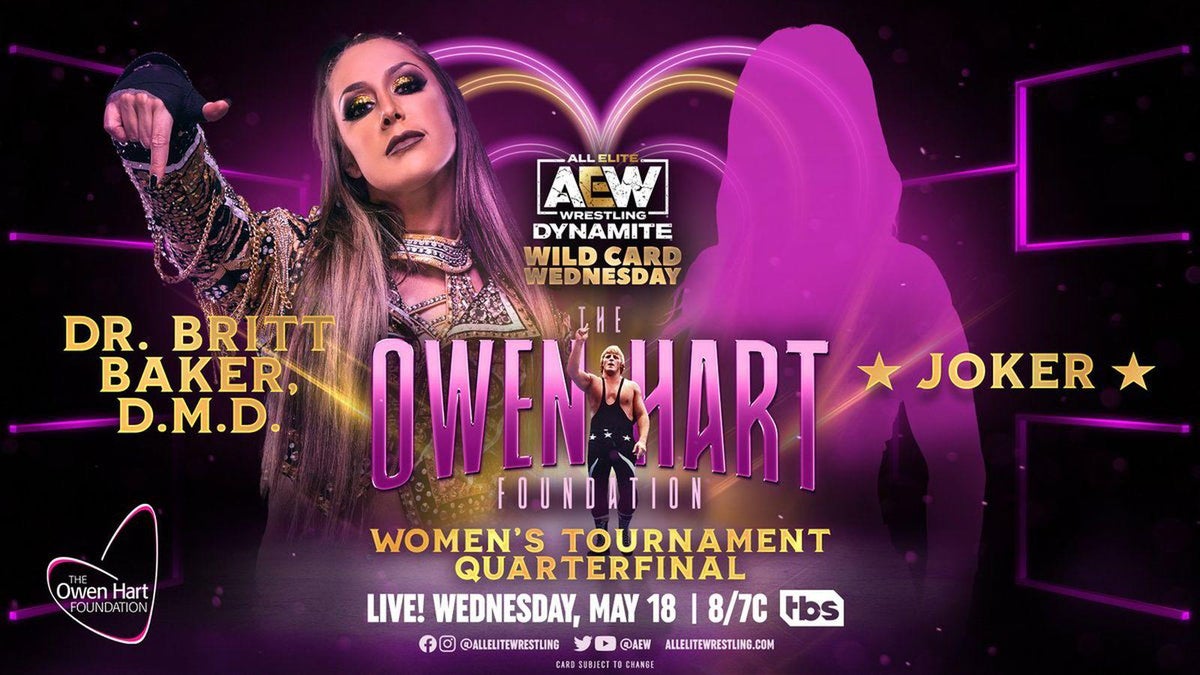 The female Joker is slightly less exciting than on the men's side. But damnit if Maki Itoh coming out and singing her theme song doesn't just bring a smile to my face. I also loved that they touched on these two teaming at Revolution last year so when Baker tries to get Itoh to lay down for her, Itoh lays down and tries to roll her up for a flash victory. I wish like hell that would've worked and ended the match. It would've been EPIC. Maki just flips Baker off and this match is ready to go!
This match was much shorter than I was hoping as Maki Itoh's passion and attitude are infectious. Just look at this shit-eating grin when Britt tries to slam her (admittedly hard) head into the turnbuckle. However, no matter how hard your head is, when someone drives their fingers down your throat, you're going to tap out. This puts Britt Baker on the road to face Toni Storm in the women's Owen Hart Foundation Memorial Tournament and Storm comes out immediately to remind her. What a match that's going to be!
POP: You've Been Owen'd, Baybay
Jeff Hardy's ridiculous run to the Owen Hart Tournament Title continues as he comes out to face Adam Cole. He didn't foresee Cole jumping him from behind on the ramp to kickstart this match. The match, however, was super short, especially for a main event. As much as I appreciate them saying they'll stick with the action even after the show ends, it doesn't matter if the match ends 5 minutes before the end of the show. At least Jeff was able to get his standard offense in!
After just a few minutes (most of which was a commercial break), Hardy misses the Swanton and eats a Boom Knee from Cole, who now advances in the tournament! Remember earlier how I mentioned they were going to stick with the action? Well, they lied. Even though the match is over, the Young Bucks attack the Hardys. Now, Darby Allin and Sting come down to join the fracas but they get jumped by reDragon. It's an all-out donnybrook. The Bucks put Sting's ankle in a chair and stomp on it and as the beatdown continues, the show ends and American Dad (or whatever) begins. They lied to us! THEY LIED TO ALL OF US!
I hope you enjoy your week, everyone! Feel free to leave a comment below (good or bad, I'll answer them all!) and share the column with your friends, family and followers. And seriously, join the Discord for good talk with good people. You can find me on there, Instagram or Twitter (all are @robbywardshow). Please hit me up with what you liked, what you hated, what you think I can change. I'm all ears! Wrestling united!