Curt Rust talked with Mackenzie then got screwed out of a Cruiserweight title shot, Tyler Stallion got a win over a jobber that didn't even get to have a name, two grumpy guys teamed up to instantly become one of the most OP team in the company (working title: Capitol Punishment), and Dexter Lumis played peekaboo with The Way.
This Week: The Dusty Classic rolls on, Santos Escobar defends his title against…CURT Stallion, right, and Johnny Gargano probably does something that makes me laugh. Oh yeah and WWE HALL OF FAMER AND 2021 ROYAL RUMBLE WINNER, THE RATED R SuuuuuuuuuuPERSTAR, EDGE SHOWS UP FOR SWEEPS!
Ain't He Great?
Leon Ruff had a match but I'd rather highlight this video package from the WWEPC channel that was a lot more enjoyable!
BOTCH: haha, what in the heck
This week in The New Adventures of Xia & Boa we get some backstory on "Tien Sha" (the lady on the throne that watches them) via legend storyteller from Ghost of Tsushima. I get the feeling none of this will matter by next month.
POP: Rated R for wRestling
So this segment started out with the usual "hey I don't like you", "well I don't like you, let's fight at the next PPV that I just happen to know the name of even though we're just saying the name tonight and it seems to change every time" back and forth between Finn and Pete which is fine and sounds badass because it's Finn and Pete.
But then the words "You think you know me" play over the speakers of the CWC and WWE Hall of Famer/2021 Royal Rumble Winner, Edge (seen earlier speaking to William Regal) comes out to let these two know that he's gonna be watching the title match at NXT TakeOver: Vengeance Day (for obvious reasons).
He also talks about how he loves that NXT focuses on the "second W" in WWE and how NXT brought out the passion in him to come back and man, it's fucking great to see Edge again. I was there during the Attitude Era, but a lot of my fond memories come from the Ruthless Aggression Era (which is super underrated) and Edge is a major part of that.
Later, Karrion Kross tries to intimidate Edge but because he's not actually that scary, all he does is make Edge wanna go for the NXT Championship even more.
POP: This Dork
NXT North American Champion and local nuisance Johnny Gargano is having an interview with "not MacKenzie" which inevitably goes sour when she not only mentions Kushida's name, but also let's Johnny know that Regal booked him and Kushida for his Championship at Vengeance Day. I'd ask why Regal would tell an interviewer and not Johnny directly but he probably avoids him as much as possible these days.
Johnny then goes to get "not MacKenzie" fired but runs into Kushda walking out of Regal's office and gets beat up for his troubles. Personally I want Johnny's new thing to be to insert as many "Way" puns into his promos as possible.
POP: GuyTappingForehead.jpg
At first we get Toni Storm vs. Jessi Kamea which I wasn't crazy excited for but hey, Jessi's aight and Toni Storm is Toni Storm so it'll at least be decent. But then Mercedes Martinez walks into the middle of the match and completely disregards Jessi in order to pick a fight with Toni and a scuffle commences (shout out to Aliyah and Robert Stone keeping Jessi from being dumb and picking a fight with MERCEDES MARTINEZ).
Io of course shows up and in the best moment of the show, simply sits and waits atop the corner of the ring for them to tire each other out and casually Moonsaults them and poses. Io for everything, all of the things.
POP: Someone I'm Invested In
That's right baby, Cameron Grimes is healed and coming back! I'm sure nothing changed while he was gone and everything in his life has been the same. By the way, have you guys been keeping up with that Robinhood and Gamestop news? Some wild shit, huh
Mid: Meh News
Is it weird that I just didn't really care about this match? I mean, this definitely felt like one of those matches that isn't as important as the things that are happening around the match. I mean, the challenger got jobber entranced. 
During the match, Scarlett showed up out of nowhere (which the announcers saw on the monitor and got confused…why they didn't just look behind them to confirm they were seeing what they thought they saw, I don't know) which didn't distract Santos during the match which is a positive.
Then after the match (do I really need to say who won), Kross comes out to warn Santos and give him "the Gift of Time". I guessed he's pissed about Santos kinda low key talking a little shit about him in that promo a couple weeks back.
Man, it's a good thing Kross doesn't have a history of being kinda meh in his non squash matches.
This Week in The Dusty Rhodes Tag Team Classic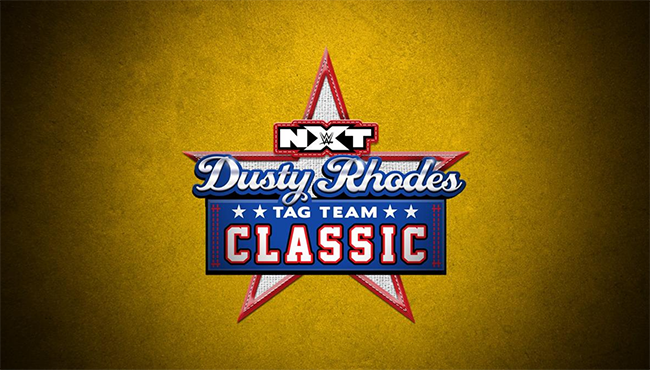 Not too much to report from the purple brand, just Shotzi & Ember beating Marina Shafir (RIP the 3 Horsewomen) & Zoey Stark. Man, they really needed to fill out that bracket.
The night actually opened with the East Coast Avengers going up against Dakota & Raquel and considering one of the people on the opposing team is current female star on the rise, Raquel Gonzalez, it's pretty obvious who won here.

Unfortunately Kacy spreading her positivity in a super way did not work out here.
The match itself was a little weirdly sloppy too, especially that moment where the ECA, tried to do that silly string spot (ala Private Party) but someone mistimed so Kacy and Dakota just kinda fell over, but I wouldn't say it was terrible. Definitely peaked with Kacy's crossbody off of the scaffolding.
LHP continue to be the best version of themselves on any show that doesn't air on Mondays and I feel like Legado Del Fantasma is weirdly underrated as a team. I mean no one really ever talks about how good they are. Part of it might be because NXT's Tag Team division is currently so stacked with really talented Teams that they just kinda blend into the field of great teams. It's weird.
Extra points to the announce team for foreshadowing LHP's loss by mentioning the issues they had with The Hurt Business on RAW possibly weakening them, thereby proving Monday Night RAW ruins everyone's life.
MSK comes out after the match to cut a pretty fun promo letting LDF know they're gonna lose, and they refer to them as the Tito to their Michael which…I mean, that's uncalled for.
The main event is The Undisputed Era (Cole/Strong variant) vs. Ciampa & Thatcher. 
How many different ways can I say an obviously amazing match with obviously amazing wrestlers was obviously amazing? This one really could've gone either way as the UE in NXT are 9 times out of 10 a safe bet, but Ciampa & Thatcher have this weird, grumpy, old man Logan-esque, kickass energy to them where you buy both of them as legitimate fighters.
I wanna see more of them as a team, so I'm glad they won here (in what was definitely the match of the night).
Fast forward to the Go-Home show…
Mid: OK, now something is happening
What? I didn't give a BOTCH to a Xia Li segment?
Yeah no, it's not a typo. We're finally (seemingly) taking the next step in whatever this story is as Kacy & Kayden try to talk to Xia before her squash match starts in order to snap her out of whatever weird trance she's in. 
Then afterwards, Kayden yells at the creepy lady on the stage and gets tossed by Xia for her troubles. Then Kacy gets beat up for trying to invite her to a party in the middle of a Pandemic.
Why did Tien choke Boa tho lmao
Incognito Mode
Regal's talking with MacKenzie (I think) and heading towards his office and he finds Scarlett already there. Regal immediately says:
No, no of course I'm joking. He leaves the cameras on.
No, actually Scarlett is there to tell Regal that Kross wants Santos next week. the match everyone wants
Later, Santos has an interview about the match but he isn't really sweating it and sends his friends who just had a pretty intense tag team match to go jump Kross. Spoiler alert, it didn't go well.
POP: Johnny Wheelchair
This mofo. So, Johnny Gargano, well known power walker, was horribly assaulted by Kushida last week and not only has a broken arm, but can't walk (points to Barrett for explaining that away with "referred pain") and has been confined to a wheelchair as a result. Truly the worst thing to happen to a man who despises wheels.
Johnny claims he's clearly too injured to defend his title at Vengeance Day Regal comes out and calls him on his bullshit since he's already been cleared by the NXT Docs. Johnny puts up an X-Ray of an atm that clearly is not his because he'd be unable to speak without screaming in pain, but he brushes that off by saying "he can kick out of anything". Man, if it weren't for something that happens later tonight, this would be my favorite segment.
So after rejecting Regal's other options, Regal then says he'll have to talk with Kushida Ambrose who shows up and beats up Johnny.
If you didn't crack up at "Dennis Charrodman" you have no soul.
Problematic Alert
Kushida had a match, but I'd rather highlight a different match he had instead. Here ya go:
Damn, that match was fire.
POP: UNITY!
Speaking of which…
GET ON MY TV ALREADY
POP: Hopped Up Out My Bed, Turn My Stonks On
So, we come to the return of who is obviously the best act going in NXT, Cameron Grimes. But not only does my man return, he pulls up in a nice ass ride and in a blazer with slacks (no shirt, natch). What exactly is going on here?
Well, it turns out that while Grimey was injured, he finally discovered what video games were so he decided to go to one (in the middle of a Panoramic?) and he liked what he saw so he decided to pull a Bradshaw and invest in Gamestop and hit it big! Then he invested in DOGECOIN and got even more stacks!
My mans, Cameron Grime$ has become the RICHEST MAN IN NXT! Jeff Bezos who? Bill Gates who? PAUPERS IN COMPARISON TO THE ONE AND ONLY CAMERON GRIME$! He's made it to the moon!!!!
Let's Get Hyphy
All throughout the night they dropped 3 different packages covering the 3 women competing for the NXT Womens Championship. I really liked how they brought up Toni and Io's history in the Mae Young Classic since she beat her to win it. However, Io correctly brings up that she's a totally different competitor now. And Io saying Mercedes' journey to the Womens Championship would never end is just cold.
This Week in The Dusty Rhodes Tag Team Classic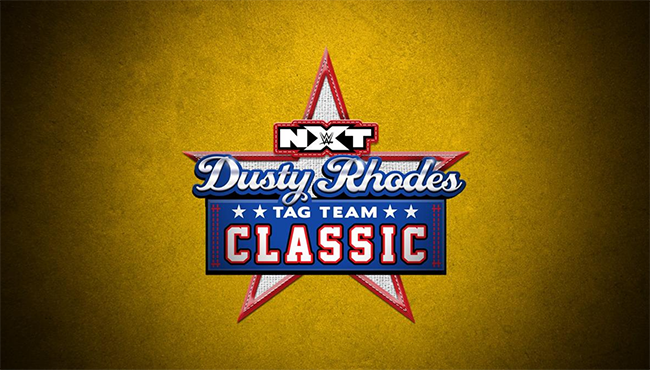 Again the show actually began with a barn burner of a Dusty match between Legado Del Fantasma and MSK. MSK really have looked great in every match they've had so far in NXT, but man they are really pushing it (heh) with that push Moosault move they do, this time Lee pushing Carter further outside the ring to land on LDF. Still, no real complaints about the match or the result. Still wanna know what MSK stands for (Major Street Kin? Motocross Skill Kings?)
Shotzi & Ember vs. The Way kinda slapped harder than I was expecting it to? Not that I have low expectations for any of them or anything like that, I just wasn't expecting them to snap like that. I think I actually enjoyed it more than MSK vs, LDF. There were a couple noticeable botches, but nothing that took me out of the match personally. 
So the finals are gonna be Ember & Shotzi vs. Dakota & Raquel. Regal than shows up and lets them know the winner is gonna get a shot at the WWE Womens Tag Team Championship (hey i guess she got sidetracked by the Dusty but I could've sworn Raquel had plans to go after Io, are we just gonna brush past that).
The main event was GYV vs. the Angry Dads and Ciampa & Thatcher just straight up punching them in the face in the middle of their pre-match promo had me rolling. This was easily the best match out of the 3 Dusty matches we got tonight, and had a shocker of an ending (to me anyway). I really thought the Angry Dads were gonna pull it out given the history of DRTTC winners being two singles guys coming together to form a Team, but GYV was actually able to take the W and make it to the finals for the second year in a row. GYV vs. MSK is gonna be fire.
I do wonder where Ciampa & Thatcher go from here.
That's it for the Go-Home Show, see ya next time for NXT TakeOver: Vengeance Day.
(also the little part at the end where they had everyone wrestling each other on Sunday argue at each other was hilarious to me)
Share this on all your sharables, check out the other Recaps & Reviews on the site and join the SRP Discord.
Peace.